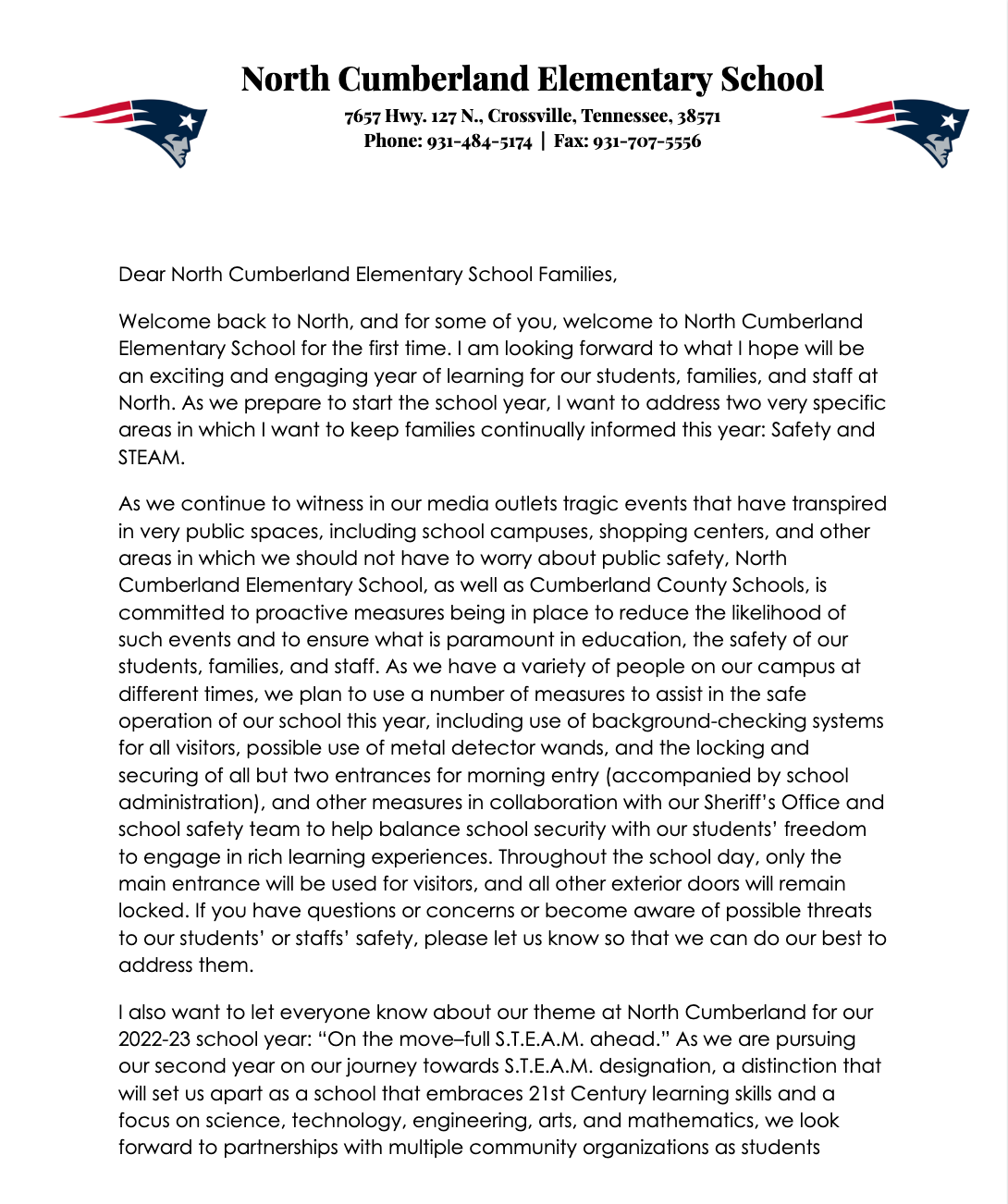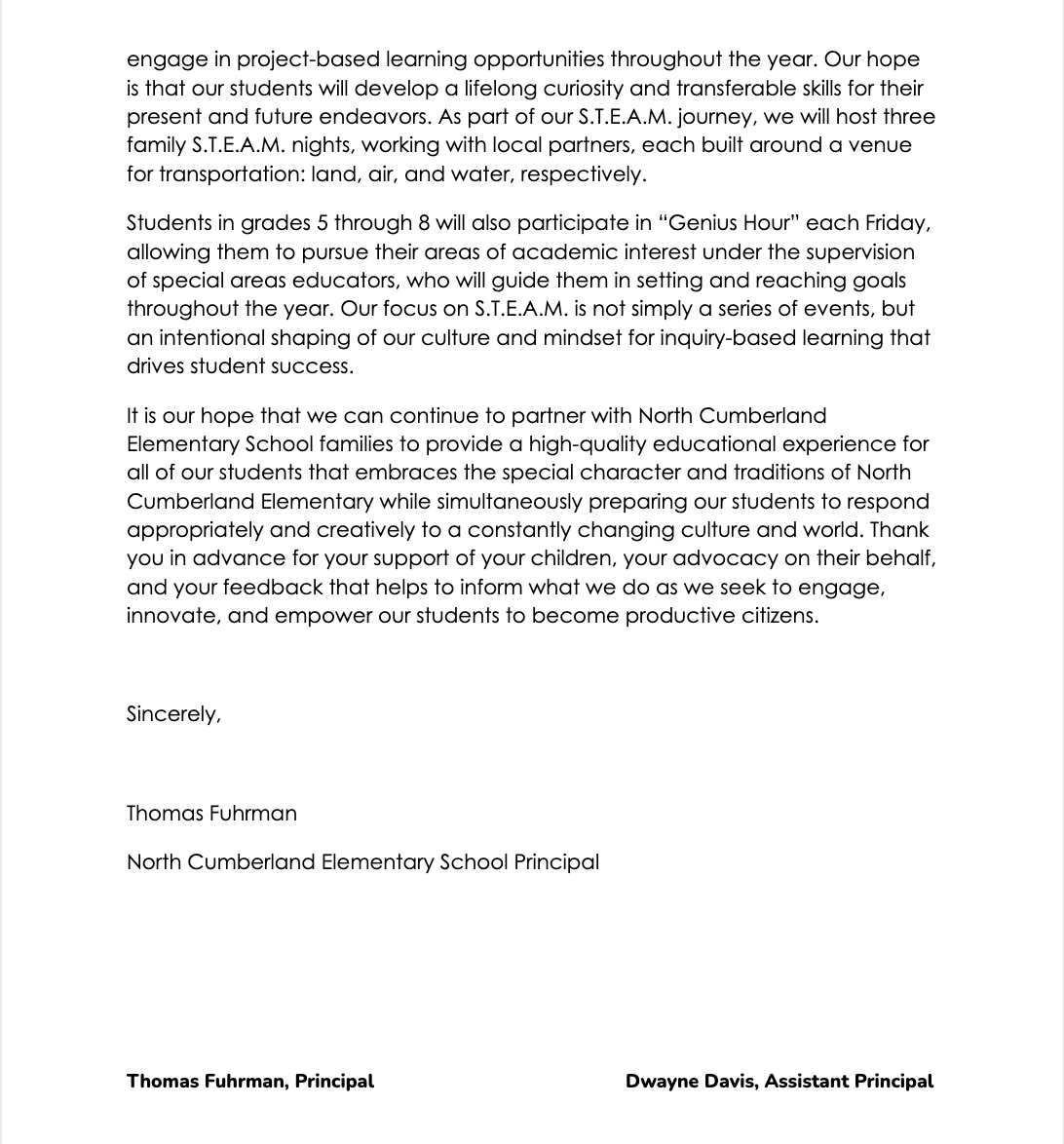 Dear North Cumberland Elementary School Families,
Welcome back to North, and for some of you, welcome to North Cumberland Elementary School for the first time. I am looking forward to what I hope will be an exciting and engaging year of learning for our students, families, and staff at North. As we prepare to start the school year, I want to address two very specific areas in which I want to keep families continually informed this year: Safety and STEAM.
As we continue to witness in our media outlets tragic events that have transpired in very public spaces, including school campuses, shopping centers, and other areas in which we should not have to worry about public safety, North Cumberland Elementary School, as well as Cumberland County Schools, is committed to proactive measures being in place to reduce the likelihood of such events and to ensure what is paramount in education, the safety of our students, families, and staff. As we have a variety of people on our campus at different times, we plan to use a number of measures to assist in the safe operation of our school this year, including use of background-checking systems for all visitors, possible use of metal detector wands, and the locking and securing of all but two entrances for morning entry (accompanied by school administration), and other measures in collaboration with our Sheriff's Office and school safety team to help balance school security with our students' freedom to engage in rich learning experiences. Throughout the school day, only the main entrance will be used for visitors, and all other exterior doors will remain locked. If you have questions or concerns or become aware of possible threats to our students' or staffs' safety, please let us know so that we can do our best to address them.
I also want to let everyone know about our theme at North Cumberland for our 2022-23 school year: "On the move–full S.T.E.A.M. ahead." As we are pursuing our second year on our journey towards S.T.E.A.M. designation, a distinction that will set us apart as a school that embraces 21st Century learning skills and a focus on science, technology, engineering, arts, and mathematics, we look forward to partnerships with multiple community organizations as students
engage in project-based learning opportunities throughout the year. Our hope is that our students will develop a lifelong curiosity and transferable skills for their present and future endeavors. As part of our S.T.E.A.M. journey, we will host three family S.T.E.A.M. nights, working with local partners, each built around a venue for transportation: land, air, and water, respectively.
Students in grades 5 through 8 will also participate in "Genius Hour" each Friday, allowing them to pursue their areas of academic interest under the supervision of special areas educators, who will guide them in setting and reaching goals throughout the year. Our focus on S.T.E.A.M. is not simply a series of events, but an intentional shaping of our culture and mindset for inquiry-based learning that drives student success.
It is our hope that we can continue to partner with North Cumberland Elementary School families to provide a high-quality educational experience for all of our students that embraces the special character and traditions of North Cumberland Elementary while simultaneously preparing our students to respond appropriately and creatively to a constantly changing culture and world. Thank you in advance for your support of your children, your advocacy on their behalf, and your feedback that helps to inform what we do as we seek to engage, innovate, and empower our students to become productive citizens.
Sincerely,
Thomas Fuhrman
North Cumberland Elementary School Principal